Yield: 4
Grilled Shrimp Caesar Salad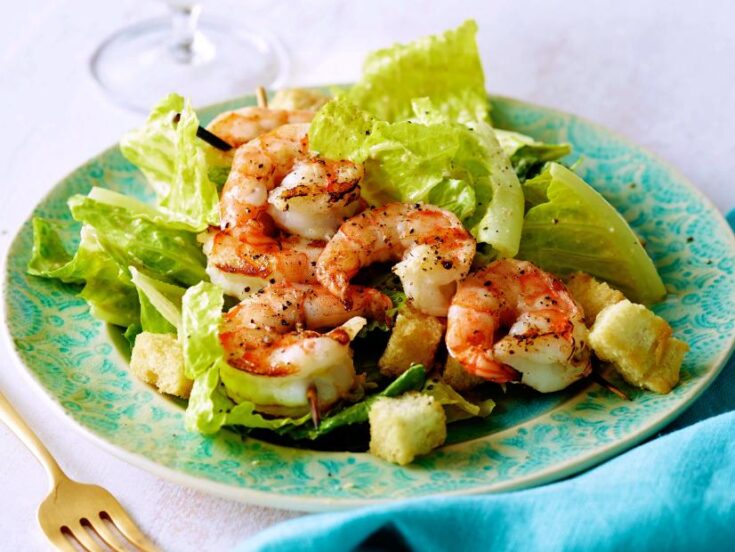 The single anchovy fillet lends umami depth to the dressing without giving it any sort of strong fishy flavor.
Ingredients
1/4 cup canola mayonnaise 
1/2 teaspoon grated lemon rind
1 tablespoon fresh lemon juice 
1/4 teaspoon freshly ground black pepper 
3/4 teaspoon Dijon mustard 
1/4 teaspoon Worcestershire sauce 
1/4 teaspoon Tabasco sauce 
1 oil-packed anchovy fillet, drained and mashed to a paste 
1 ounce Parmesan cheese, grated (about 1/4 cup) 
1/2 small garlic clove, minced 
7 teaspoons extra-virgin olive oil, divided Cooking spray 
1 pound peeled and deveined extra-large shrimp 
2 ounces whole-wheat French baguette, cut into 8 slices
10 cup baby romaine lettuce
Instructions
Step 1
Combine the first 10 ingredients in a large bowl. Gradually add 1 tablespoon oil, stirring constantly with a whisk.

Step 2
Heat a grill pan over medium-high heat. Coat pan with cooking spray. Combine shrimp and 2 teaspoons oil in a large bowl; toss to coat. Add shrimp to pan; cook 2 1/2 minutes on each side or until well marked and done. Remove shrimp from pan. Brush each side of bread slices with remaining 2 teaspoons oil. Add bread to pan; cook 1 minute on each side or until well marked.

Step 3
Add lettuce to mayonnaise mixture; toss well. Divide lettuce mixture evenly among 4 bowls. Divide shrimp and bread evenly among servings.
Nutrition Information
Yield

4
Serving Size

1
Amount Per Serving
Calories

283
Total Fat

15.7g
Saturated Fat

2.5g
Cholesterol

158mg
Sodium

532mg
Carbohydrates

12g
Fiber

3g
Protein

22g