Yield: 4
Banana-Almond Butter French Toast Sandwiches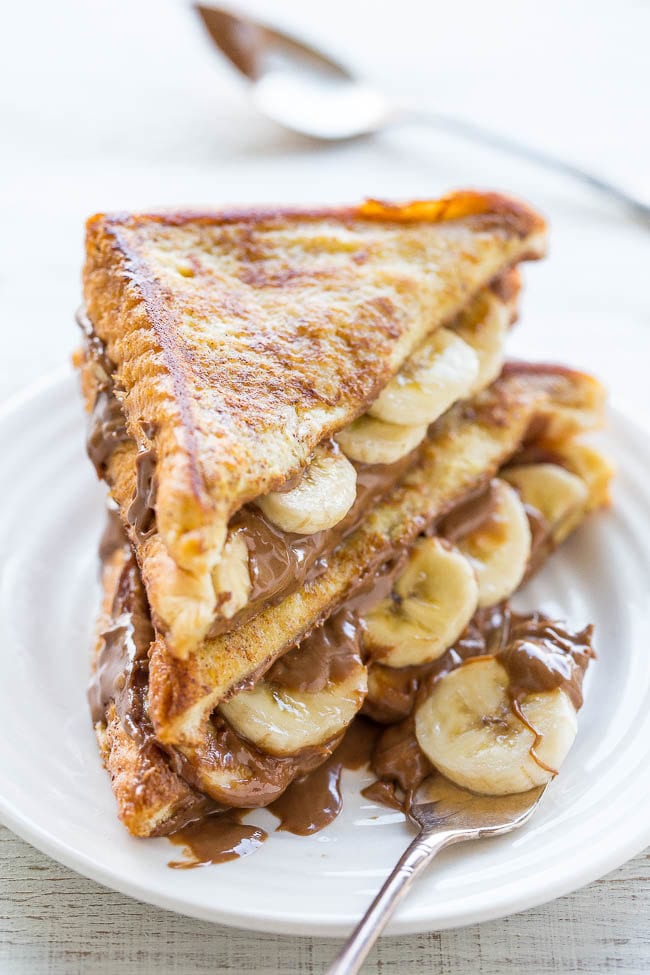 Breakfast sandwiches make us want to dance around the kitchen--especially when our panini press is involved. But you don't need a press to make this sandwich. Just cook it in a frying pan with some cooking spray, and press on it with the back of a spatula.
Ingredients
2 large eggs 
1/4 cup unsweetened almond milk 
2 teaspoons vanilla extract 
1/4 teaspoon ground cinnamon 
2 tablespoons almond butter 
4 teaspoons maple syrup 
1 banana 
4 (1.5-ounce) slices multigrain bread
Cooking spray
Instructions
Step 1
Crack eggs into a shallow bowl. Add almond milk, vanilla extract, and cinnamon; stir with a whisk to combine.

Step 2
Combine almond butter and maple syrup in a small bowl. Cut banana lengthwise into 4 thin slices; cut crosswise into halves. Spread almond butter mixture evenly across bread slices. Top 2 bread slices with 4 banana pieces. Place remaining 2 bread slices over banana, sandwiching almond butter and bananas inside.

Step 3
Heat a panini press to 425° or high heat. Dip sandwiches in egg mixture, and let excess drip off. Lightly coat grill plates of panini press with cooking spray, if needed. Arrange sandwiches on press. Close panini press, pushing down gently to flatten. Cook 3 to 4 minutes or until sandwiches are browned on the outside and hot in the center.

Step 4
Place sandwiches on a cutting board. Cut in half diagonally. Serve hot.
Nutrition Information
Yield

4
Serving Size

1
Amount Per Serving
Calories

228
Total Fat

8.3g
Saturated Fat

0.8g
Cholesterol

47mg
Sodium

228mg
Carbohydrates

33g
Fiber

6g
Protein

9g