Nowadays, food isn't just about survival – it's an exploration! It's a chance to discover new cultures, meet great people, and experience the world in a whole new way. Immerse yourself in different cultures and tantalise your taste buds with the most popular dishes and cooking styles!
Experience global flavours and the most popular dishes! Discovering cuisine from around the world is a journey of flavorful exploration and cultural understanding. So why not get out there and start your edible adventure?
There are a few culinary superstars who have captured the hearts and taste buds of food lovers all over the world when it comes to the world's most beloved cuisines. From the bold and spicy flavours of Korean cuisine to the delicate and intricate sushi of Japan, the way different cultures approach food and cooking is truly unique.
However, it is not only the juggernauts who are making waves in the culinary world. With the rise of social media and food blogging, food enthusiasts can now discover new and exciting cuisines from all over the world.
Everything You Need To Know About These Global Cuisines
Taste the world without leaving your kitchen! Discover the exciting histories, customs, and values of different cultures through exploring global cuisine – a wonderful way to travel the world from the comfort of your home.
In this blog post, we will take a closer look at some of the most popular dishes and cooking styles from different cuisines around the world. From the hearty pasta dishes of Italy to the spicy flavours of Korean cuisine, we will explore the cooking styles and flavours that make each cuisine unique and special.
So buckle up and get ready for a culinary adventure as we dive into the world of global cuisine.
Korean Cuisine
Today, Korean cuisine is becoming more and more popular. Korean cuisine has something to offer everyone, from the fresh ingredients it uses to the powerful and pungent flavours.
The fact that Korean food incorporates a range of ingredients and flavours is one of the reasons it is one of the most popular dishes around the world. The combination of spicy, sweet, salty, and sour flavours yields an amazing culinary experience. Fresh ingredients, like kimchi, are frequently used in Korean cuisine to make tasty dishes.
Here are the top Korean Cuisines for you to try:
Bulgogi

Bulgogi is a Korean barbecue dish made with thinly sliced beef that has been marinated in a sweet and savoury sauce before grilling.
The marinade typically includes soy sauce, sugar, garlic, sesame oil, and other flavorful ingredients.
Bulgogi is usually cooked on a grill or stovetop griddle over high heat and is often served with steamed rice and vegetables.

Samgyeopsal

Samgyeopsal, on the other hand, is a Korean dish made with thick slices of pork belly cooked on a grill or stovetop griddle.
Unlike Bulgogi, samgyeopsal is not marinated but is seasoned with salt and pepper before cooking.
Samgyeopsal is usually served with lettuce, which is used to encase the meat, alongside garlic, kimchi, and other seasonings.
Kimchi

Kimchi is a traditional Korean side dish made from salted and fermented vegetables, such as cabbage, radish, or cucumber, typically served with every meal in Korean cuisine.
The cooking style used to make kimchi involves a process of fermentation that allows the natural flavours of the vegetables to be enhanced and transformed into a tangy and flavorful side dish.
Italian Cuisine
Get ready to indulge your taste buds, because Italian cuisine is one of the most popular dishes in the world! With a focus on fresh ingredients, bold flavours, and simple yet delicious cooking techniques, Italian cuisine is truly a culinary masterpiece.
And the best part? Each region of Italy has its own unique culinary heritage and specialties, so there's always something new and exciting to discover.
Here are three of the most popular dishes in Italy and their cooking styles:
Spaghetti Carbonara

This classic Italian pasta dish is made with spaghetti noodles tossed in a sauce made from eggs, Parmesan cheese, and pancetta (cured pork belly).
The sauce is cooked with the pasta to create a creamy and delicious coating. The dish is then finished with black pepper and additional Parmesan cheese.
The cooking style involves boiling the pasta until al dente and then adding the egg and cheese mixture while the pasta is still hot, allowing the heat to cook the sauce and create a creamy texture.
Margherita Pizza

This is one of the most iconic Italian dishes and is loved for its simple yet delicious flavours.
Margherita pizza is made with a thin crust, tomato sauce, fresh mozzarella cheese, and fresh basil leaves.
The pizza is baked in a wood-fired oven, giving it a crispy crust and perfectly melted cheese.
It involves stretching the pizza dough by hand, applying the sauce and cheese, and baking it in a hot oven for a short period of time.

Osso Buco

This is a traditional Milanese dish made with braised veal shanks that are braised in a broth of vegetables, white wine, and beef stock.
The dish is typically served with risotto alla Milanese (a creamy saffron-flavoured risotto).
The cooking style involves searing the veal shanks and then slow-cooking them in a flavorful broth until they become tender and juicy.
This dish requires a bit of patience and time, but the end result is a rich and delicious meal that is sure to impress.
Mexican Cuisine
Mexican cuisine is truly a global sensation and also one of the world's most popular dishes. Mexican cuisine, from tacos to fajitas, has captured the hearts of foodies on nearly every continent. But what is it about Mexican food that makes it so popular?
We believe that the flavour, variety, and accessibility of Mexican cuisine are what make it so popular. Mexican cuisine has a truly unique flavour that keeps people coming back for more. Fresh ingredients, spices, and sauces combine to create a complex flavour profile not found in most other cuisines.
The top 3 most popular dishes in Mexico are:
Tacos

Tacos are a classic Mexican dish made with a tortilla filled with various ingredients, such as seasoned meat, beans, cheese, lettuce, tomatoes, and salsa.
They are usually served with lime wedges and hot sauce. The cooking style involves grilling or frying the tortillas and filling them with the desired ingredients.

Enchiladas

Enchiladas are another beloved Mexican dish made with tortillas that are filled with ingredients such as shredded chicken or beef, cheese, and various vegetables.
The tortillas are rolled up and then baked in a sauce made from chilli peppers and tomatoes.
The cooking style involves preparing the tortillas, filling them with the desired ingredients, rolling them up, and then baking them in the sauce.

Guacamole

Guacamole is a classic Mexican dip made from mashed avocados, onions, tomatoes, lime juice, and cilantro.
It is often served as a side dish or as a topping for various Mexican dishes such as tacos and nachos.
The cooking style involves mashing the avocados and mixing them with the other ingredients until a smooth and creamy dip is formed.
Japanese Cuisine
Japanese cuisine is an incredibly refined culinary tradition that is globally renowned for its emphasis on fresh and seasonal ingredients, as well as its delicate and elegant presentation. From sushi to ramen and even tempura, the variety of most popular dishes is almost overwhelming, yet each dish has its own unique flavour and different cooking styles that make it special.
These are the most popular dishes in Japan, each with its own unique techniques and flavour profiles. Here are three of the most well-known:
Sushi

Sushi is a famous Japanese dish made of vinegared rice combined with various toppings, such as raw fish, cooked seafood, and vegetables.
The dish is typically served with soy sauce, wasabi, and pickled ginger.
The cooking style involves precise knife skills for preparing the ingredients and perfecting the rice.
Ramen

Ramen is a popular Japanese noodle soup dish that originated in China and was later introduced to Japan.
Ramen can be enjoyed in a variety of styles, such as Shio (salt), shoyu (soy sauce), miso (fermented soybean paste), and tonkatsu (pork bone broth).
The cooking style involves simmering the broth for hours to extract maximum flavour and then assembling the various toppings to create a well-balanced and flavorful bowl of ramen.

Yakitori

Yakitori is a popular Japanese dish consisting of skewered and grilled chicken, often seasoned with salt or tare sauce (a sweet and savoury sauce made with soy sauce, mirin, and sugar).
The cooking style involves grilling the chicken over a charcoal fire, resulting in tender and juicy meat with a crispy exterior.
Indian Cuisine
Indian cuisine is a world of flavour, colour and spice! With a long and illustrious history, there are a lot of most popular dishes to explore, whatever your dietary preference. Whether you're a vegetarian or a meat lover, you'll find something for all palettes in the vast array of Indian cuisine.
From regional favourites to traditional favourites, there's something to tantalise your taste buds. If you have an adventurous side, why not explore some of the more out-of-the-ordinary dishes? Try something new and you may find a new favourite. Indian cuisine is full of surprises.
With a myriad of flavours and aromas, you can indulge in spicy and sweet dishes, mild and tangy. Some of the most popular dishes are:
Butter Chicken – Also known as Murgh Makhani, this is a classic North Indian dish made with succulent pieces of chicken cooked in a creamy tomato-based sauce. The dish is flavoured with a blend of aromatic spices and herbs, making it a favourite among both locals and foreigners.
Biryani – This is a flavorful and aromatic rice dish made with a blend of spices, vegetables, and meat (typically chicken or lamb). It is often served with raita (a cooling yogurt-based side dish) and is a staple in Indian cuisine.
Chole Bhature – This is a popular street food dish in North India. It consists of spicy chickpeas cooked in a flavorful tomato-based sauce, served with bhature (a fried bread made with wheat flour). The dish is often garnished with chopped onions, cilantro, and a squeeze of lemon juice.
Other popular Indian cuisines include samosas, tikka masala, dosa, naan bread, and various vegetarian dishes like saag paneer and aloo gobi.
Chinese Cuisine
Chinese cuisine boasts a variety of flavours and the most popular dishes that are not only delicious but also healthy. From steamed dumplings to stir-fried vegetables and noodles, Chinese cuisine is often made with fresh ingredients that are rich in nutrients.
The use of spices and herbs, such as ginger, garlic, and star anise, not only adds flavour but also provides a range of health benefits. Here are some of the most popular dishes in Chinese cuisine.
Dim Sum

Dim sum is a style of Chinese cuisine that features small, bite-sized portions of food served in bamboo steamer baskets.
Popular dim sum dishes include dumplings, steamed buns, and rice noodle rolls.

Chow Mein

Chow mein is a staple of Chinese-American cuisine and features stir-fried noodles with vegetables and often some form of protein such as chicken, beef or shrimp.
The dish is known for its savoury sauce and satisfying texture.

Peking Duck

This is a famous dish from Beijing that features roasted duck served with thin pancakes, scallions, and hoisin sauce.
The duck is typically roasted until the skin is crispy and golden brown, and the meat is tender and juicy.
Thai Cuisine
From its rich flavours and aromas to its unique blend of spices and herbs, Thai dishes have captured the hearts and stomachs of foodies worldwide.
One of the most popular dishes in Thailand is the classic Pad Thai. This dish, originally from Thailand, has now become a staple on many menus worldwide, and it is no surprise why.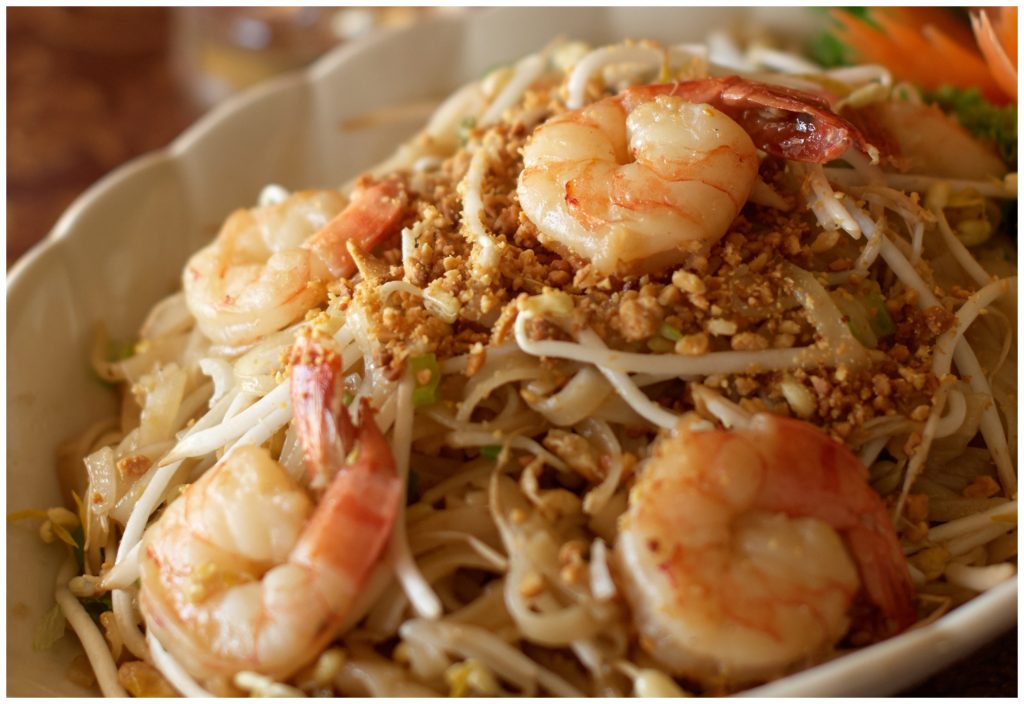 Recently, Pad Thai has gained a place among the most popular dishes around the world. It has become a crowd-pleaser in many restaurants across the globe, and its popularity continues to soar. Pad Thai is a delicious mix of rice noodles, shrimp, chicken, or tofu, stir-fried with bean sprouts, peanuts, and egg, and seasoned with sweet and sour sauce.
Vietnamese Cuisine
The rise in popularity of Vietnamese cuisine can be attributed to several factors, including the growing interest in healthy food options and the rise of social media, which has made it easier for people to discover new cuisines.
The growing number of Vietnamese immigrants around the world has resulted in an increase in Vietnamese restaurants, making it easier for people to experience the cuisine. Check out the most popular dishes in Vietnam:
Pho

This is a popular noodle soup dish that consists of clear beef broth, rice noodles, and thinly sliced beef or chicken.
The dish is usually served with herbs, bean sprouts, and lime wedges on the side, allowing diners to add their own flavours to the soup.
Pho is often enjoyed for breakfast or lunch and is considered a staple in Vietnamese cuisine.

Banh Mi

This is a type of Vietnamese sandwich that is made with a crispy baguette, filled with a variety of ingredients such as pickled vegetables, fresh herbs, pate, and grilled meat or tofu.
Banh Mi is a perfect example of the fusion of French and Vietnamese cuisine, as the baguette was introduced to Vietnam by French colonists.

Bun Cha

This is a popular dish that originated in Hanoi and consists of grilled pork meatballs that are served with rice noodles, fresh herbs, and a dipping sauce made from fish sauce, sugar, vinegar, and chilli.
The dish is typically eaten for lunch or dinner and is often served with a side of crispy spring rolls.
These three dishes represent the essence of Vietnamese cuisine, with their use of fresh ingredients, bold flavours, and simple cooking techniques.
Filipino Cuisine
Filipino cuisine is now considered one of the most popular dishes around, with a growing number of restaurants and food establishments showcasing its rich and vibrant flavors. Filipino dishes are making waves and earning critical acclaim in the international food scene.
The rising popularity of Filipino food can be attributed to various factors, such as the growing interest in diverse and exotic cuisine, the increasing number of Filipino immigrants and expats, and the emergence of Filipino food bloggers and chefs promoting the cuisine.
The fusion of traditional Filipino dishes with modern culinary concepts has created a unique gastronomical experience that has appealed to both Filipino and non-Filipino diners. Here are 3 of the most popular
Adobo

This is considered the national dish of the Philippines and is a stew made with chicken or pork, vinegar, soy sauce, garlic, and bay leaves.
It's often served over rice and is known for its tangy and savoury flavours.

Sinigang

This is a sour soup that is made with tamarind paste, vegetables, and meat (usually pork or shrimp).
The sourness of the tamarind is balanced by the sweetness of the vegetables, and the dish is often served with rice.

Lechon

This is a whole roasted pig that is often served at special occasions and celebrations.
The pig is stuffed with lemongrass, garlic, and other herbs and spices, and is slow-roasted until the skin is crispy and the meat is tender and flavorful.
It's often served with a vinegar dipping sauce and is a favourite among Filipinos.
Conclusion
When it comes to food, there is no limit to the number of culinary delights that one can experience. From traditional dishes to fusion creations, the possibilities are endless. Exploring global cuisine and cooking styles can be an enriching and satisfying experience.
It allows one to learn about different cultures, traditions, and flavors, and broaden their culinary horizons. Additionally, trying out new cuisines can also be a great way to break out of one's comfort zone and expand their taste buds.
Whether it's trying a new restaurant or experimenting with new ingredients in the kitchen, exploring global cuisine can open up a world of culinary possibilities and make mealtime more exciting and enjoyable.
By trying out different recipes and ingredients, we can expand our palate and gain a deeper appreciation for the diversity of cultures around the world. Whether you are a seasoned cook or a beginner, there is always something new to learn in the world of global cuisine.
So what are you waiting for? Go to your kitchen and start trying the most popular dishes around the world. :)