Last Updated on
We all have our favorite restaurant. We like it for a multitude of reasons – location, food, the staff, value and/or the ambience. But what if you had the choice of dinner for two at any restaurant anywhere in the world? Where would you choose? What would form your selection criteria?
Here is a selection of famous restaurants to get your gastronomic food receptors working. It's by no means a definitive list but each of the featured restaurants has been highly reviewed by renown critics.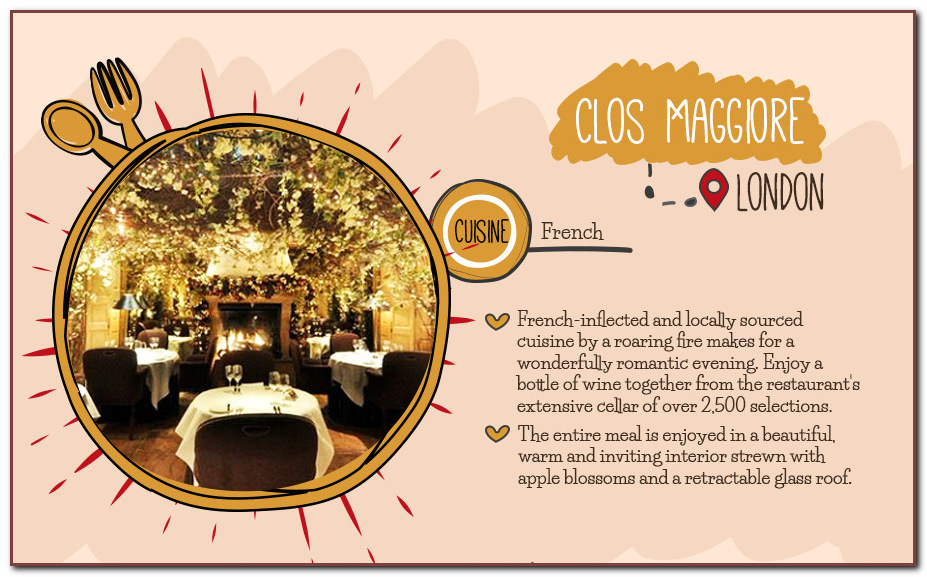 Described as an oasis of calm in the heart of Covent Garden. Influenced by the stylish country inns of Provence and Tuscany the unique interiors create an unparalleled warmth and intimacy. The cherry blossomed adorned conservatory features a fully retractable glass roof creating a bright and airy dining space in summer months and in winter months it is transformed at night by candles, starlight and a crackling fire.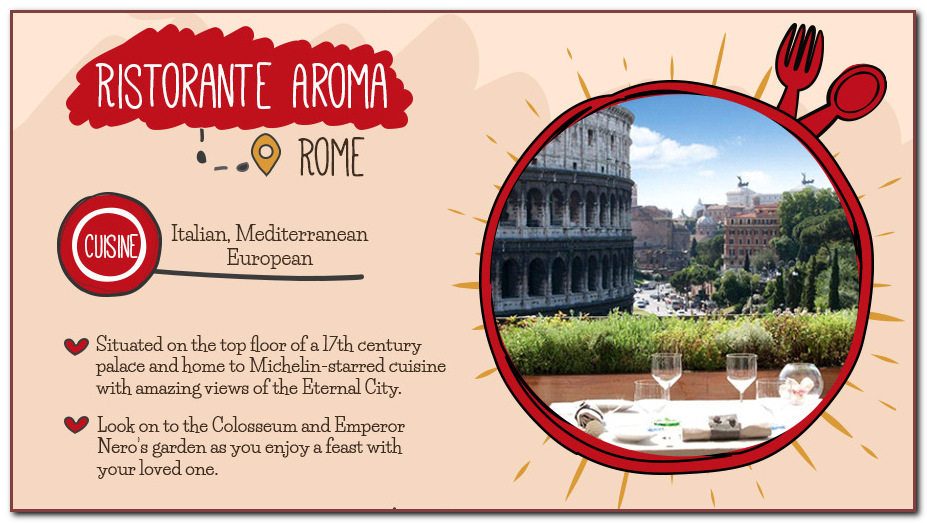 Quintessential Rome is reflected in a menu of classic Italian dishes on a picturesque outdoor terrace offering an unparalleled Colosseum view. But with a mere 28 seats, you might need to book a year or two ahead!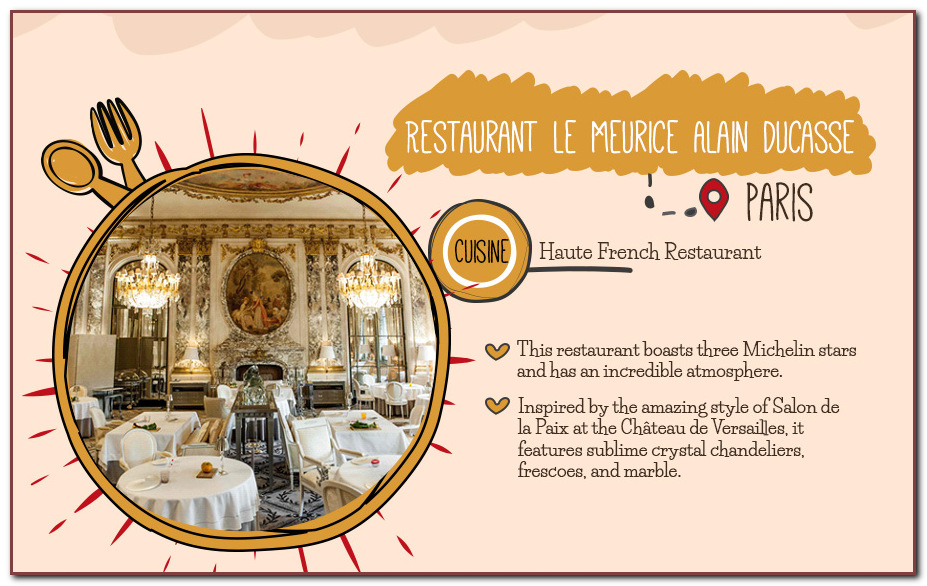 A cuisine of the essential! Alain Ducasse and executive chef, Jocelyn Herland, present an almost "coarse" cuisine, creating delicious dishes of great subtlety, with simple produce.
Located in the West Village of the New York City Manhattan borough, has long been been recognized for its classic menu, long history, and beautiful decor. Request your love's favourite piece from the resident pianist!
The only restaurant in St Mark's Square, Ristorante Quadri features a contemporary expression of the freshest local seafood and vegetables in traditional Italian and Venetian style. A total refurbishment in 2018 has restored the restaurant to typical Venetian glory.
Modern French cusine in the heart of Asia, Chef Nicolas "Doudou" Tourneville promises patrons "an entirely sensory dining experience borne of the pleasures of living".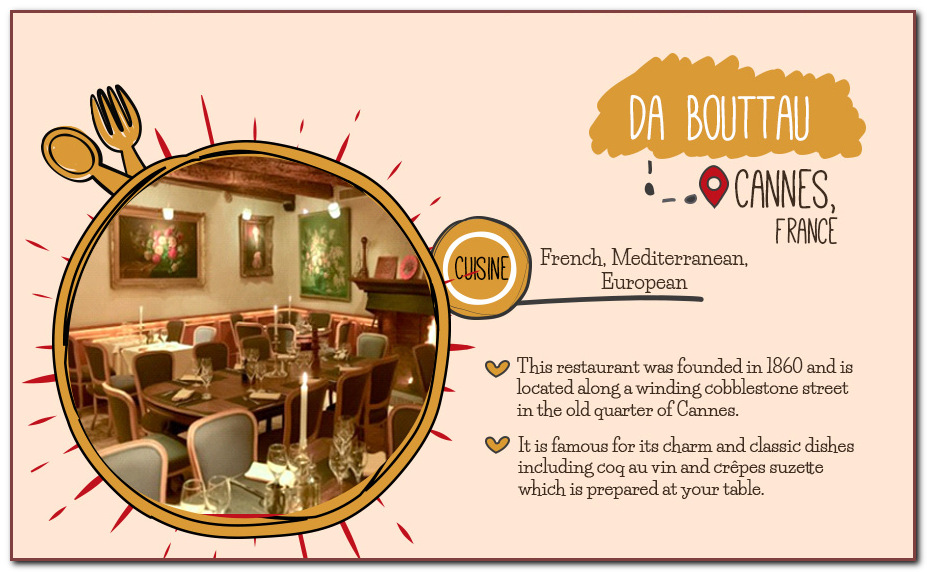 This restaurant founded by Alexander Bouttau in 1860 is on the road that climbs up to Le Suquet. Take your seat at a table in one of the small, classic-style dining areas, then enjoy the offering of traditional regional dishes.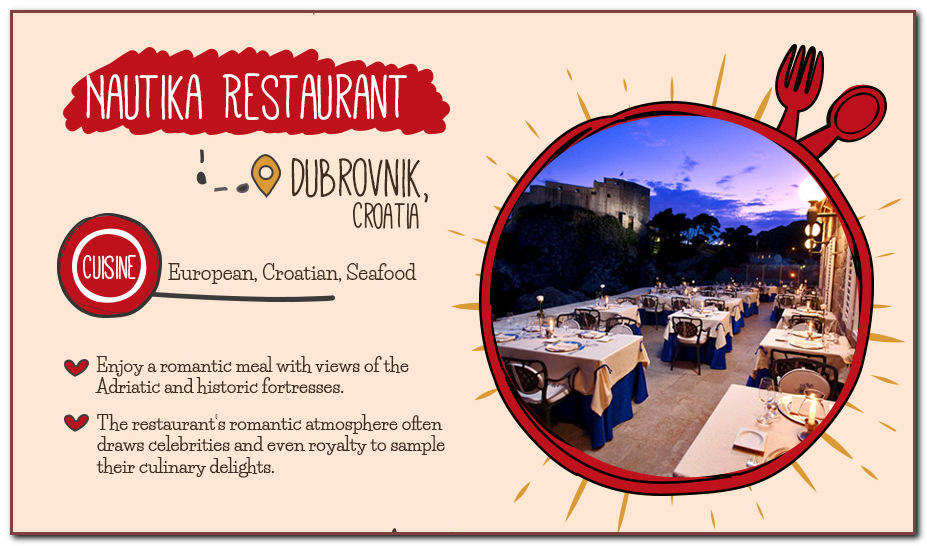 As the name suggests, Nautika is all about local seafood including the superb lobsters from Vis Island. From its unique terraces, Enjoy a truly one of a kind view of the Adriatic and the fortresses of Lovrijenac and Bokar from the dining terraces.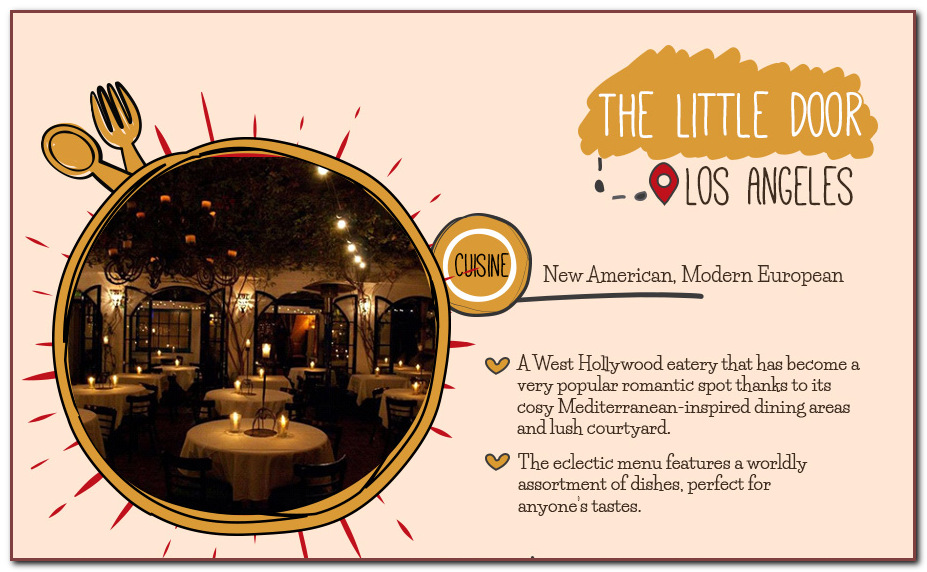 Discover a hidden paradise amidst the mayhenm that is LA! Dine with a colorful crowd in the romantic courtyard savouring elegant displays of rustic Mediterranean cuisine.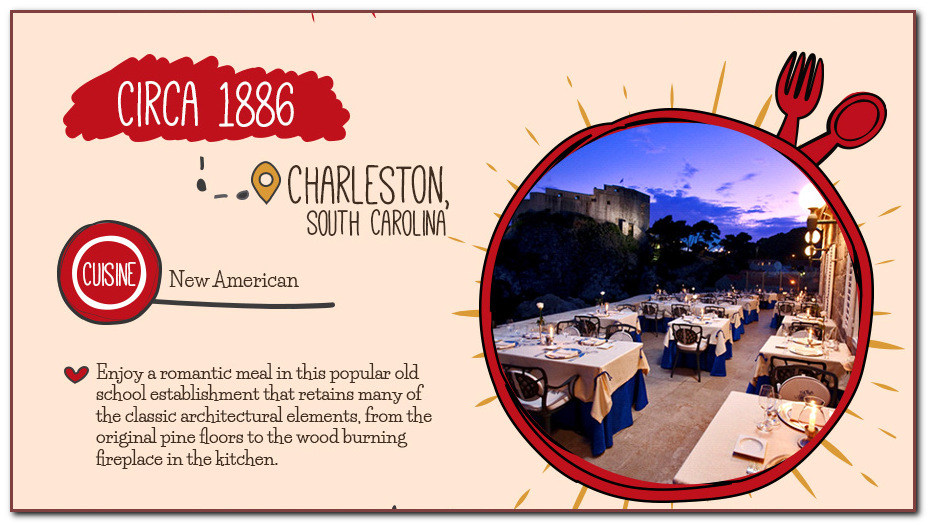 My Choice:
Not quite as romantic – unless you can afford a private room, is the exquisite Tetsuya's Restaurant in Sydney. It is owned and by Tetsuya Wakuda, one of the world's most awarded chefs. Situated in the very heart of the city, it is none-the-less a true oasis of Zen tranquility. With separate kitchens for each of the main Japanese food styles as well as a sensational selection of French cuisine, there is something for every palate though sadly, not for every budget!
What and where is your favorite restaurant?