Yield: 30
Bruschetta with Minted Pea Puree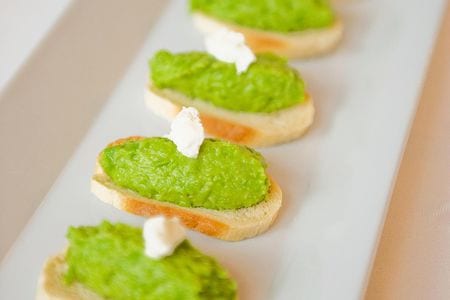 Ingredients
1 (10 oz.) French baguette, cut into 30 (1/2-inch) slices 
2 garlic cloves 
2 tablespoons olive oil 
1 (10 oz.) box frozen baby peas 
1/4 cup finely chopped fresh mint 
3 ounces cream cheese, at room temperature 
1 tablespoon grated Parmesan 
Salt and pepper
Instructions
Step 1
Make toasts: Preheat oven to 375°F. Lay baguette slices out in a single layer on a baking sheet and bake for 10 minutes, or until dry and crispy. Cut 1 garlic clove in half. Brush one side of each toasted baguette slice lightly with olive oil and rub with cut side of garlic clove. Return toasts to oven for 4 minutes. Cool completely.

Step 2
Make pea puree: Mince remaining garlic clove. Place peas, minced garlic and 1/3 cup water in pan, bring to boil and cook for 5 minutes. Puree mixture in food processor until smooth. Let cool for 5 minutes. Add mint and process again until mint is blended in. Let cool completely in food processor bowl.

Step 3
When pea mixture is cool, pulse in cream cheese and Parmesan until combined; season with salt and pepper. When ready to serve, spoon a small amount of puree onto each toast.
Nutrition Information
Yield

30
Serving Size

1
Amount Per Serving
Calories

85
Total Fat

3g
Saturated Fat

1g
Cholesterol

3mg
Carbohydrates

13g
Fiber

1g
Sugar

182g
Protein

3g