Searching for an awesome gift for a family or friend? If he or she is someone who is passionate about cooking then this list will help!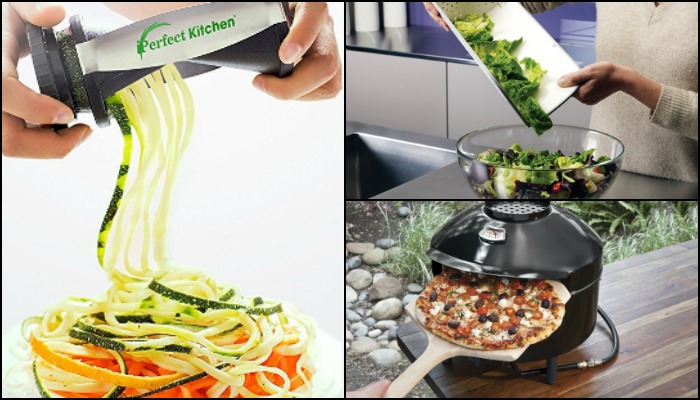 From clever kitchen storage to amazing kitchen gadgets and utensils! All these ideas will make life in the kitchen easier and more fun, which is why they'd make great gifts for the cooks in your life.
But of course, these are not exclusive gifts for cooks. They are also perfect for foodies or people who love to eat certain foods like salads, pasta or pizzas. Or for that friend who is so organized that some space-saving solutions around the kitchen would be a treat!
See our list of gifts for cooks now by scrolling down and we hope that you find one or two that you think your loved ones will really love!
[adinserter block="11″]
Click on any image to start lightbox display. Use your Esc key to close the lightbox. ?
Tri-Blade Vegetable Spiral Slicer
This amazing kitchen tool is used for creating spiral cuts and vegetable or fruit noodles in just seconds. It's perfect for making not only healthy, but wonderful looking meals! If you love hosting parties at home or you want to discover ways on how to encourage the kids to eat vegetables, then this spiral slicer can definitely come in handy!
Now we know this butter cutter may seem goofy, but surprisingly it works! With this little gadget you don't have to deal with any mess anymore, plus there are less knives to clean ;) It's also very useful for serving restaurant-style buns with neat and perfectly cut butter squares when hosting lunch/dinner parties!
Pizzeria Pronto Outdoor Pizza Oven
Do you know someone who just loves pizza? Then here's an appliance that lets them bake their favourite pizza flavour anytime, anywhere! And since this is designed for the outdoors, you can also give this to those who love camping or tailgating.
Pots and pans and their lids are one of the most challenging items to store in the kitchen. So if you know someone who keeps complaining about how difficult it is to store and access their pots and pans, then this cookware organizer is the perfect gift for them!
Vegetable Spiralizer, Peeler, Shredder
This one is similar to the first item on this list, only more portable. Food enthusiasts and health conscious people are surely going to love this item!
Now here's something for the bakers! It lets them pour equal amounts of cake batter every time for evenly baked cupcakes. You can also use this for making uniform sizes of pancakes and other desserts!
Over the Sink Roll-Up Drying Rack
Do you know someone who has got a small kitchen? They are going to love this sink roll-up drying rack which provides extra drying space for newly washed kitchen utensils as well as vegetables and fruits. As you can see on the third photo below, this foldable rack is strong and durable that it can hold plenty of kitchen items all at the same time.
Why the need to choose which pasta to bake when you can make three different flavours in one go? This clever pan is great for those who like hosting little lunch/dinner parties or for those who have kids that don't agree on the best pasta flavour in the world ;)
Shred hot meat straight out of the grill or smoker fast and effortlessly with these bear paw meat handlers! Is there any meat lover in your life who could use one of these?
Now who wouldn't love this last kitchen item on our list? It makes preparing food a lot easier and faster, and lessens the need for extra bowls or strainers on your countertop!
We hope you liked our gift suggestions. If you know one equally amazing kitchen item that's not included in the list, please do share it with us through the comments section!