Yield: 6
French-Style Shrimp Salad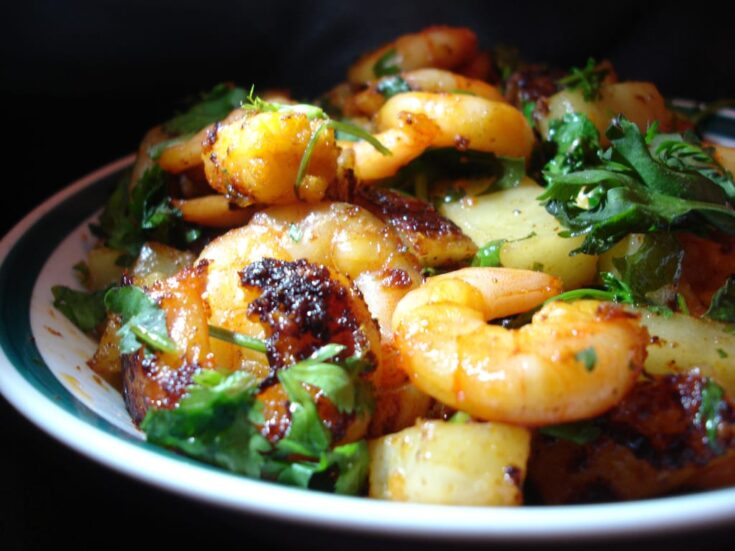 Assemble this shrimp salad in individual servings, or arrange it on a platter and serve family style. Niçoise olives are a small purplish-black variety; you can substitute kalamata. Serve with crusty French bread. This dish is a twist on the classic salade niçoise with tuna.
Ingredients
Vinaigrette:
6 garlic cloves, halved 
2/3 cup fat-free, less-sodium chicken broth
1/4 cup chopped fresh basil 
1/4 cup chopped fresh parsley 
2 tablespoons fresh lemon juice
2 tablespoons tarragon vinegar 
2 tablespoons extravirgin olive oil
2 teaspoons Dijon mustard 
1/2 teaspoon freshly ground black pepper
Salad:
2 pounds peeled and deveined large shrimp 
12 small red potatoes (about 3/4 pound) 
1/2 pound haricots verts 
Cooking spray
5 cups gourmet salad greens 
4 cups torn romaine lettuce 
1 cup (1/4-inch-thick) slices red bell pepper (about 1 medium) 
3 medium tomatoes, each cut into 6 wedges 
1 (14-ounce) can quartered artichoke hearts, drained 
3 hard-cooked large eggs, each sliced into quarters 
1/2 cup niçoise olives 
2 tablespoons capers
Instructions
Step 1
To prepare vinaigrette, drop garlic through food chute with food processor on; process until minced. Add broth and next 7 ingredients (through black pepper); process until well blended.

Step 2
To prepare salad, combine 2 tablespoons vinaigrette and shrimp in a large zip-top plastic bag; seal. Marinate in refrigerator for 20 minutes, turning bag occasionally to coat shrimp.

Step 3
Place potatoes in a large saucepan; cover with water. Bring to a boil; cook 8 minutes. Add haricots verts to pan; cook 2 additional minutes or until haricots verts are crisp-tender and potatoes are tender. Drain and rinse with cold water; drain. Cut potatoes into 1/4-inch-thick slices. Set aside.

Step 4
Heat a large grill pan over medium-high heat. Coat pan with cooking spray. Remove the shrimp from bag, and discard marinade. Add shrimp to pan. Cook 3 minutes on each side or until the shrimp are done.

Step 5
Combine potatoes, haricots verts, greens, lettuce, bell pepper, tomatoes, and artichokes in a large bowl. Add remaining vinaigrette, tossing gently to coat. Place lettuce mixture on a serving platter. Arrange shrimp and eggs over lettuce mixture; sprinkle with olives and capers. Serve immediately.
Nutrition Information
Yield

6
Serving Size

1
Amount Per Serving
Calories

366
Total Fat

12g
Sodium

798mg
Carbohydrates

26.1g
Fiber

6.4g
Protein

39.3g