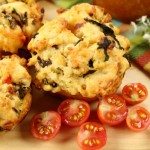 Tomato, Cheese & Herb Muffins
Print Recipe

Add this recipe's ingredients to your shopping list

This recipe is in your Shopping List
Servings

Prep Time

12

muffins

10

minutes
Servings

Prep Time

12

muffins

10

minutes
Tomato, Cheese & Herb Muffins

Print Recipe

Add this recipe's ingredients to your shopping list

This recipe is in your Shopping List

Servings

Prep Time

12

muffins

10

minutes

Servings

Prep Time

12

muffins

10

minutes
Prepare a 12-pan muffin tray and preheat oven to 190C.

Sift flour and baking powder into a bowl. Add cheese and rosemary, and mix.

In another bowl mix milk, egg, butter, tomatoes and basil pesto.

Make a well in the dry ingredients and add the milk mix, until just combined.

Fill greased muffin pans to three-quarters.

Bake for 20-25 minutes or until muffins spring back when lightly touched.