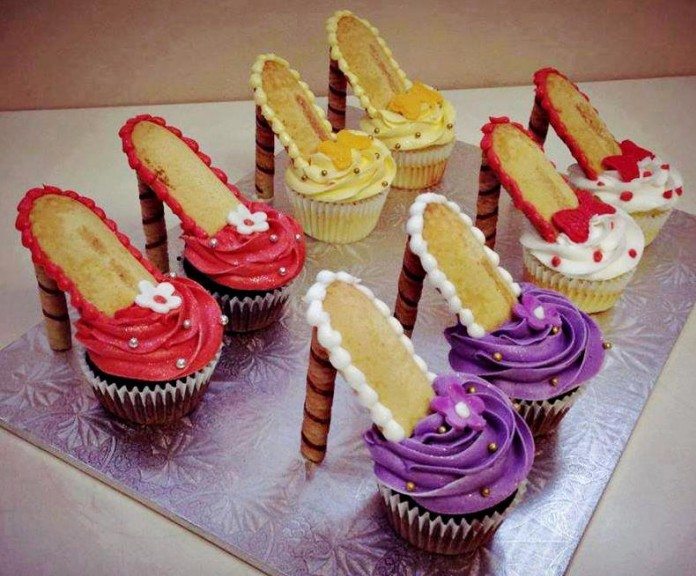 High Heel Cupcakes
Print Recipe

Add this recipe's ingredients to your shopping list

This recipe is in your Shopping List
Who doesn't love dainty, girl fashion inspired party food? Here is a great way to make some fun fashion inspired cupcakes! Amount of ingredients and the time to make these high heels will depend on the number of people you're serving :)
High Heel Cupcakes

Print Recipe

Add this recipe's ingredients to your shopping list

This recipe is in your Shopping List

Who doesn't love dainty, girl fashion inspired party food? Here is a great way to make some fun fashion inspired cupcakes! Amount of ingredients and the time to make these high heels will depend on the number of people you're serving :)
To get the Shoe Form, you cut a "U" shape into the top of cupcake mound. This gives illusion of the opening to the sole of the heel. You can even cut the mound into more of a "rainbow" shape to give it an open toe look! Let your inner designer SHINE! :)

After you have the form of your shoe, use royal icing to decorate them. I did this without the cupcake liners on so they wouldn't get too messy!

Next, we decorated the Soles (the cut out graham crackers) with royal icing. After it dried, we added more detail for the sides of the shoes by piping chocolate.

Then we attached the heels to the soles, and then the soles to the cupcakes with chocolate.

At this point we did all the details like the buckles and "poofs" - all the fun stuff!
Get your 55-piece Ateco Decorating Tube Set, great for a wide range of decorating needs!
This set includes coupler, flower nails and Ateco's most popular decorating tips made of stainless steel. It also comes with instructions and a plastic storage container.
Also available in 29-piece set. Buy Now