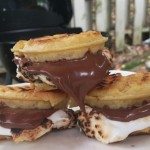 Grilled S'Mores
Print Recipe

Add this recipe's ingredients to your shopping list

This recipe is in your Shopping List
Who doesn't love that campfire classic, the s'more — a roasted marshmallow and chocolate bar sandwiched between two graham crackers? But s'mores can be so much more. Check out the list of creative s'mores below! :)
Grilled S'Mores

Print Recipe

Add this recipe's ingredients to your shopping list

This recipe is in your Shopping List

Who doesn't love that campfire classic, the s'more — a roasted marshmallow and chocolate bar sandwiched between two graham crackers? But s'mores can be so much more. Check out the list of creative s'mores below! :)
Use the remaining hot coals in your Kettleman grill after grilling the main course.

Either use a toaster to get the waffles brown or grill them on the grill grate.

Remove the grill grate to roast the marshmallows on long-handled forks.

Put the roasted marshmallow on one mini waffle. Spread another mini waffle with the chocolate hazelnut spread and put it, spread side down, on the marshmallow.
Other s'more versions you should try
Roasted marshmallow and peanut butter sandwiched between two thin chocolate cookies.

Roasted marshmallow with sliced strawberries and bananas, and a dark chocolate square between two cinnamon sugar graham crackers.

Roasted marshmallow and a mint chocolate square between two chocolate graham crackers.

Roasted marshmallow and cashew butter (peanut butter's more sophisticated cousin) sandwiched between two soft chocolate chip cookies.

Roasted marshmallow, crispy bacon and raspberry jam between two shortbread cookies.
Do you grill a lot? Then you definitely need a BBQ tong that is well-designed for easy use and comfort. Char-Broil's tongs prevent hand fatigue, so you can flip those steaks at the flick of a wrist.
Recipe Source: Char-Broil