Chilled Avocado-Tomatillo Soup – Tired of having the same soup over and over again? Try this delicious chilled avocado-tomatillo soup for a change. If you want a light and refreshing soup, this is perfect for you. It's also very easy to make. :)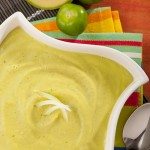 Chilled Avocado-Tomatillo Soup
Print Recipe

Add this recipe's ingredients to your shopping list

This recipe is in your Shopping List
Tired of having the same soup over and over again? Try this delicious chilled avocado-tomatillo soup for a change. If you want a light and refreshing soup, this is perfect for you. It's also very easy to make. :)
Servings

Prep Time

2

people

20

minutes
Cook Time

Passive Time

15

minutes

2

hours
Servings

Prep Time

2

people

20

minutes

Cook Time

Passive Time

15

minutes

2

hours
Chilled Avocado-Tomatillo Soup

Print Recipe

Add this recipe's ingredients to your shopping list

This recipe is in your Shopping List

Tired of having the same soup over and over again? Try this delicious chilled avocado-tomatillo soup for a change. If you want a light and refreshing soup, this is perfect for you. It's also very easy to make. :)

Servings

Prep Time

2

people

20

minutes

Cook Time

Passive Time

15

minutes

2

hours

Servings

Prep Time

2

people

20

minutes

Cook Time

Passive Time

15

minutes

2

hours
In a saucepan over medium heat, cook tomatillos, onion and jalapeño in oil for about 5 minutes or until they start to soften.

Add broth or water; bring to a simmer and cook 5 minutes more.

Cool to room temperature.

In blender, pulse tomatillo mixture with avocados and cilantro until roughly puréed.

Add lime juice and salt; refrigerate until cold.

Thin with water to desired consistency.