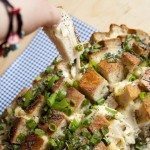 Cheesy Pull Apart Bread Recipe
Print Recipe

Add this recipe's ingredients to your shopping list

This recipe is in your Shopping List
The name says it all! A delicious, cheesy bread for the whole family to enjoy. Make it more personal by adding the toppings for your choice :)
Servings

Prep Time

4

people

20

minutes
Servings

Prep Time

4

people

20

minutes
Cheesy Pull Apart Bread Recipe

Print Recipe

Add this recipe's ingredients to your shopping list

This recipe is in your Shopping List

The name says it all! A delicious, cheesy bread for the whole family to enjoy. Make it more personal by adding the toppings for your choice :)

Servings

Prep Time

4

people

20

minutes

Servings

Prep Time

4

people

20

minutes
Using a very sharp knife, cut the loaf of bread lengthwise and widthwise, but do NOT cut all the way through the bottom crust.

Place the bread on a sheet of foil, enough for covering the whole loaf later on.

Slice some cheese and insert them in between the cuts.

Cut green onions into little pieces and combine with melted butter and poppy seeds. Drizzle all over the bread.

Cover the bread with the foil and bake it for 15 minutes with a temperature of 180°C.

Unwrap the bread and bake for another 10 minutes until the crust is crispy and the cheese has melted.