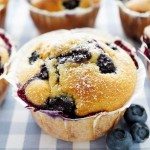 Blueberry Muffins
Print Recipe

Add this recipe's ingredients to your shopping list

This recipe is in your Shopping List
These tender and moist banana-flavoured muffins with blueberries are perfect for breakfast, a snack or just about anytime! We love having this together with a good cup of coffee. :)
Servings

Prep Time

12

muffins

15

minutes
Servings

Prep Time

12

muffins

15

minutes
Blueberry Muffins

Print Recipe

Add this recipe's ingredients to your shopping list

This recipe is in your Shopping List

These tender and moist banana-flavoured muffins with blueberries are perfect for breakfast, a snack or just about anytime! We love having this together with a good cup of coffee. :)

Servings

Prep Time

12

muffins

15

minutes

Servings

Prep Time

12

muffins

15

minutes
Preheat oven to 375°F and grease muffin pans.

In a large mixing bowl, mash bananas.

Then add the egg and sugar.

Add vegetable oil and blueberries.

Combine all dry ingredients and gently with the banana mixture.

Divide the batter equally among 12 well-greased muffin cups and bake for 15 minutes or until inserted toothpick comes out clean.

Remove from the oven and cool on a wire rack for a few minutes before removing the muffins from the pan.
Store leftovers in an airtight container at room temperature.