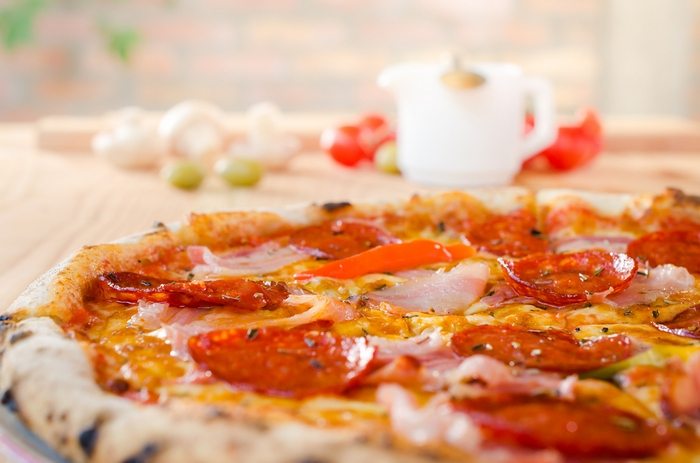 The tangy smells of tomato sauce and mozzarella sauce waft in the room as you wait for your pizza to arrive, tempting you with the promise of a flavorful meal. However, if you sit down in many traditional Italian pizzerias, you will discover a unique style of pizza called the Neapolitan pizza.
What is Neapolitan Pizza?
An authentic pizza follows specific rules. First, the dough uses wheat flour or in some cases, a mixture of white and wheat. The flour is mixed with Neapolitan yeast and water with salt added. Once the ingredients are added together, they are mixed by hand or with a mixer on low speed.
Here's where the work comes in. You must press out the dough by hand without using a rolling pin. It's supposed to be very thin and is cooked in a stone oven at a high heat of 905 degrees Fahrenheit. Another specific requirement is the use of oak wood for the fire. Cooking time is no more than 90 seconds.
When you see one of these pizzas, one of the first things you'll probably notice is the size. At around 12 inches, it looks more like a personal pizza – plan to order one per person rather than sharing! Only fresh ingredients are used and they are kept simple with no unusual toppings. Two options for mozzarella cheese are allowed.
Fior di latte – cheese made from the milk of cows
Mozzarella di Bufala – cheese made from the milk of water buffalos, generally only found in the marshlands of Lazio and Campania
Variations of the Pizza
Three options exist which meet the requirements of the Associazione Vera Pizza Napoletana (VPN), an official organization for Neapolitan pizza.
Pizza marinara – made with tomato, extra virgin olive oil, garlic, and oregano
Pizza Margherita – made with tomato, mozzarella, extra virgin olive oil and basil
Pizza Margherita extra – the same as the pizza Margherita except mozzarella is from Campania
The pizza Margherita is considered the classic version of this style of pizza.
The History of Neapolitan Pizza
Pizza was first developed in Naples, Italy, in the 1700s. Poor peasants began adding tomatoes to flatbreads to enhance the taste. People who came to visit the area would try the local dish and then request it on return trips.
The early versions of the pizza didn't include cheese, but this topping was added in the late 1800s. A pizza featuring the colors of the Italian flag – tomatoes for red, mozzarella cheese for white and basil leaves for green, was made for the Queen Margherita of Savoy when she visited Naples.
The Need for Certification with Authentic Pizzas
The VPN was founded in Naples, Italy, in 1984 to certify the correct process for creating an authentic version of this pizza. Since then, a branch in America has been established to ensure American pizzerias meet the requirements for serving this delicious dish.
Only a few restaurants in the United States are certified and a few hundred in Italy to create this special type of pizza. Many others create a version of the Neapolitan pizza and serve it while some stay true to the original recipe and requirements even though they have never applied for official certification.
The Differences between Traditional and Neapolitan Pizza
Be prepared for a delicious pizza, but don't order it for takeout. Because the dough is loaded with tomatoes, it can get soggy in the middle, especially when it steams up in a box. After it cools off, the crust isn't crisp. This kind of pizza is best enjoyed in the pizzeria and with friends who each order their own because you won't want to share.
Another difference in this type of pizza over traditional style is many times you'll have to use a fork to eat it. In fact, you can tell an authentic version by this unique problem. Of course, the taste is so good, you won't mind that you can't pick it up like other pizzas.
When the pizza arrives at your table, you may notice it isn't cut. This is another authentic detail that differentiates it from traditional pizzas. The pizza is served whole to reduce the sogginess in the crust.
And then there is the browning of the pizza, which can be anything from a light brown to almost charred. Many American pizzerias feature charred spots on their pizzas while true Italian Neapolitan pizza is a subtle brown.
One thing is for certain, when you order this kind of pizza, don't expect anything like the traditional pizzas you are used to. This is an experience you want to take the time to appreciate.
Resources:
Pizza 90 and Serious Eats