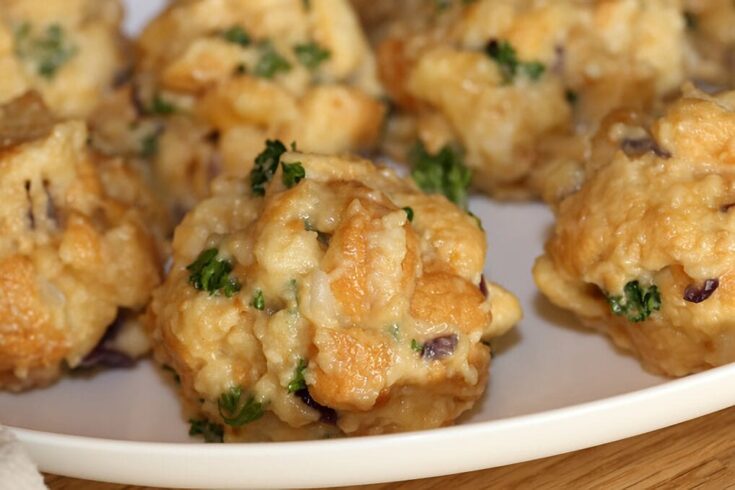 Have a mess-free dish that can double as a meal or a heavy snack with this recipe.
Ingredients
2 large eggs
1 (1 pound) loaf stale French bread, cut into 1 inch cubes
1 onion, finely chopped
1 cup milk
½ cup dry bread crumbs
2 tablespoons butter
1 tablespoon chopped fresh parsley
½ teaspoon salt
1 pinch ground black pepper
Instructions
Step 1
Place the bread cubes into a large bowl. Heat the milk until it starts to bubble at the edges, then pour it over the bread cubes. Stir briefly to coat the bread. Let soak for 15 minutes.

Step 2
Meanwhile, melt the butter in a skillet over medium heat. Add the onions; cook and stir until tender. Stir in the parsley, and remove from the heat. Mix into the bowl with the bread along with the eggs, salt and pepper. Use your hands, squeezing the dough through your fingers until it is smooth and sticky.

Step 3
Bring a large pot of lightly salted water to a boil. The water should be at least 3 or 4 inches deep. When the water is boiling, make a test dumpling about the size of a small orange or tangerine, by patting and cupping between wet hands. Gently drop into the boiling water. If it falls apart, the dough is too wet. In this case, stir some bread crumbs into the rest of the dumpling batter.

Step 4
Form the remaining dough into large dumplings, and carefully drop into the boiling water. Simmer for 20 minutes, then remove to a serving plate with a large slotted spoon. They should come out soft, spongy and delicious!
Nutrition Information
Yield

4
Serving Size

1
Amount Per Serving
Calories

506
Total Fat

12g
Cholesterol

113mg
Sodium

1220mg
Carbohydrates

79g
Protein

20g