Yield: 24
Air Fryer Crab Rangoon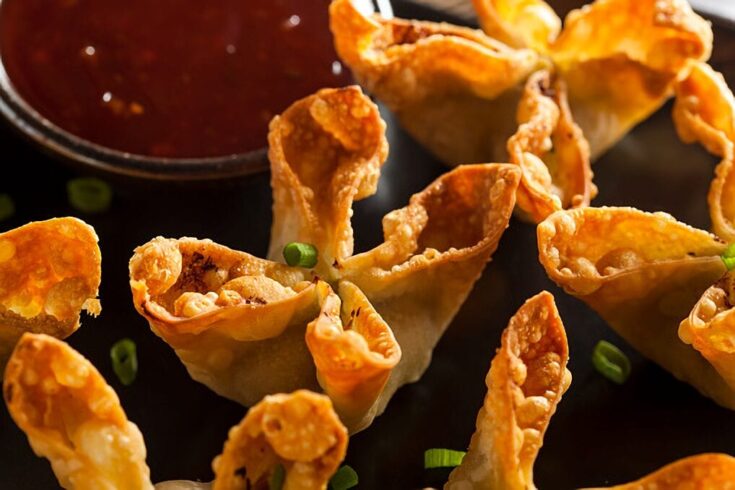 Eat a crunchy snack that will keep you full far more than you should.
Ingredients
24 eaches wonton wrappers
1 (8 ounce) package cream cheese, softened
4 ounces lump crab meat
2 tablespoons Asian sweet chili sauce, for dipping
2 tablespoons chopped scallions
1 teaspoon Worcestershire sauce
1 teaspoon soy sauce
nonstick cooking spray
Instructions
Step 1
Combine cream cheese, crab meat, scallions, soy sauce, and Worcestershire sauce in a bowl; stir until evenly combined.

Step 2
Preheat an air fryer to 350 degrees F (175 degrees C). Spray the basket of the air fryer with cooking spray. Fill a small bowl with warm water.

Step 3
Place 12 wonton wrappers on a clean work surface. Spoon 1 teaspoon of cream cheese mixture into the center of each wonton wrapper. Dip index finger into the warm water and wet around the sides of each wonton wrapper. Crimp wrapper corners upwards to meet in the center to form dumplings.

Step 4
Place dumplings in the prepared basket and spray the tops with cooking spray.

Step 5
Cook dumplings until desired crispness, about 8 to 10 minutes. Transfer to a paper towel-lined plate.

Step 6
While first batch is cooking, assemble remaining dumplings with the remaining wrappers and filling.

Step 7
Serve with sweet chili sauce for dipping.
Nutrition Information
Yield

24
Serving Size

1
Amount Per Serving
Calories

127
Cholesterol

29mg
Sodium

240mg
Carbohydrates

11g
Protein

5g